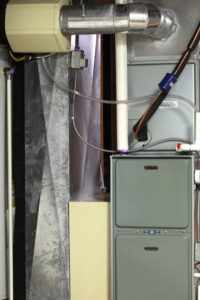 Just as there is no such thing as "the last pair of shoes you'll ever need to buy," there's no such thing as the "last central heating system you'll ever need to install." A heater, whether it's a gas furnace, electric furnace, heat pump, or ductless mini split, wears down over time. Quality professional maintenance done each year will help the system last for as long as possible, but you'll one day need to have the unit replaced. 
We handle heating system installation and heating repair in Buford, GA, so we know a great deal about the life expectancies of heating systems and the factors that can affect them. We can provide you with some general information about your heater's estimated service life, but when it comes time to make a decision, we recommend calling us for a professional opinion. 
General Heater Life Expectancies
This rundown lists the manufacturers' expected service lives for different types of heaters:
Gas Furnaces:

around 15 years

Electric Furnaces:

around 20–25 years

Heat Pumps:

10–15 years
Ductless Mini Splits: 10–20 years
We need to point out that simply because a heater type has a longer life expectancy (the eclectic furnace, for example) doesn't mean it's the superior choice compared to other options. Electric furnaces are often more expensive to run compared to gas furnaces, so the longer life expectancy balances out the increased lifespan. 
Factors That Affect Heater Life Expectancy
The most important factor that can change how long your heater will last is the frequency that it receives professional maintenance. All HVAC professionals, as well as the Department of Energy, recommend annual maintenance for heaters, with fall the best time to arrange for it. With this maintenance, most heaters will reach the upper end of their service life estimate. Without it, the life expectancy will drop and may even be cut in half. This is one of many reasons to always keep up with professional maintenance. Our Comfort Club is one way to see that your HVAC system maintenance stays current.
Climate conditions and how much use a heater receives will also affect the service life. Our local winters are milder than in more northern states, so our heaters don't have as much annual stress. On the other hand, higher humidity can cause early corrosion in heaters that will shorten their service lives. Routine maintenance is the best defense against this. 
Finally, prompt repairs will help a heater enjoy a longer lifespan. Allowing any repair, even if it seems small, to go unattended will increase strain on other components in the heater and allow wear and age to take hold earlier.
Decided to Replace a Heater
When your heater is at its service life's upper estimate and still seems like it's in good shape, call on our technicians to give it an inspection. We'll give you an honest estimate about how much longer you can expect efficient heater performance and if repairs may still be worthwhile in the future. 
At Snellville Heating, Air and Plumbing, Your Comfort Is OUR Business. Let us help you when you have to ask some tough questions about your home heating system.