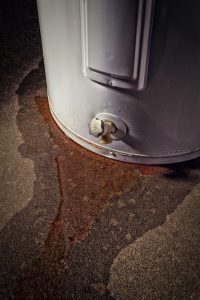 Although we'll need to provide some context and extra information about this answer, the answer is "yes." Corrosion is one of the worst things that can happen to a water heater, and when it sets in on your water heater, it's likely time to call our technicians and arrange to have a new one installed. 
This isn't an absolute, as we'll discuss below, but rust and other types of corrosion are more than just spots of trouble in a water heater. They indicate larger problems and likely a water heater that is too old to keep.
How Corrosion Starts
Considering how a water heater works—a metal cylinder where hot water is stored—you might think corrosion would be a major concern from the start. After all, corrosion is a chemical reaction that occurs when water meets metal in the presence of oxygen. Isn't that what's happening in a water heater all the time?
No, not exactly. Water heaters are designed to resist corrosion for many years. There are several defenses against corrosion built into them:
Glass lining on the inside of the tank.

The absence of air inside the system. The air cushion used to maintain pressure in the tank is separated by a flexible membrane.

A device called the sacrificial anode rod inside the tank draws corrosion to it so it won't affect the rest of the water heater.
If a water heater receives annual professional maintenance to check on the anode rod, fix leaks that can allow air into the system, repair the expansion tank, and flush the tank, corrosion should stay away for many years.
When Corrosion Happens
The anode rod will corrode completely after a few years, so if it isn't changed out, corrosion can set in early. There's also the possibility of corrosion outside the tank on the heat exchanger. This is a type of corrosion that can be repaired, since the heat exchanger can be removed and replaced—although if the water heater is over 15 years old, it's more cost-effective to replace the entire system rather than just the exchanger. 
Otherwise, corrosion affects most water heaters because of extreme age. If you spot corrosion appearing on the tank, you can call technicians to inspect it, but it's almost certain the tank (as well as other parts) will need to be replaced. A water heater can often last up to 20 years, and a few even go to 30 years, but if you see corrosion on any water heater that's older than 15 years, it's a sign that it's time to retire it. 
The Pros Are Here to Help
When it comes to water heaters in Lawrenceville, GA and the rest of the Snellville area, we're the team to rely on. We're licensed by the state and have kept customers happy since we started in business in 1988. We are a certified Rheem Pro Partner, but we work on all brands of water heaters.
At Snellville Heating, Air and Plumbing, "Your Comfort Is OUR Business." Call for water heater services in the Snellville, GA area.