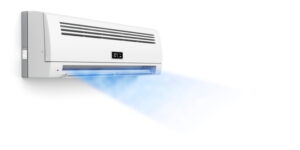 Using a ductless mini split heat pump for your central heating and cooling is a great way to solve uneven temperatures in a house or provide central comfort in a house that doesn't have space for ducts. Ductless systems also have fewer repair issues because they use smaller motors and don't suffer from problems connected to ductwork wearing down.
But a ductless mini split can still need heating repair in Athens, GA if it isn't delivering the comfort you want during this winter. There are several possible reasons for poorer heating from a ductless system, and we're going to look at several sources. You'll likely need our professional help to fix the problem, so unless the issue ends up extremely simple, rely on our team to diagnose and fix the malfunction.
Is Only One Room Having Heating Problems?
Because ductless mini splits work through multiple wall-mounted room units, the malfunction could be in one of those units while not affecting the rest of the system. When you notice one room isn't getting warm enough, check all the other rooms that have wall-mounted units. If they're still warming up fine, then the issue is probably with only one of the units—which is good news, since it means a simpler repair, or in some cases replacing the individual unit. (This modular design is one of the benefits of a ductless mini split heat pump.)
Check on the air filter for the faulty unit first. It's a permanent filter you can find by opening up the front panel. If this filter is excessively clogged, it will drop airflow and harm the heating ability. Clean off the filter with water, allow it to air-dry, then replace it. 
The wall unit may have trouble with its blower motor, which you may be able to hear. Another possibility is that the unit has lost its connection to the remote, or its temperature sensor isn't picking up accurate room temperatures and keeps shutting the system off. 
Is the Problem Occurring Around the House?
If you've got rooms all around your house that aren't getting warm enough, then the problem is a general one with the ductless system. Almost any trouble that can affect a standard heat pump can affect a ductless one:
The refrigerant is leaking. You might even notice leaks occurring behind the wall units, where the refrigerant line has come loose.

The compressor motor or the outdoor exhaust fan motor is starting to fail. Listen to the outside unit for grinding and clicking sounds that will warn you this is happening.

The outdoor unit is short-cycling, meaning it's turning on and off rapidly, never staying on long enough to warm up the rooms that are making heating requests.
These malfunctions require professionals to repair, so leave the hard work to our team. Don't delay calling us: allowing problems like refrigerant leaks to continue can lead to a full system breakdown.
At Snellville Heating, Air and Plumbing, Your Comfort Is OUR Business! Schedule heating repair services and other ductless mini split services with us.