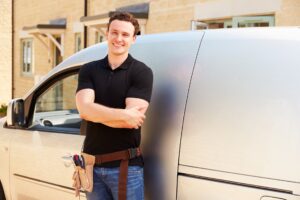 If you currently have a window air conditioner, it's time to make the upgrade to a central air conditioner. A window unit simply cannot keep up with your cooling needs. One room or area of your house may stay cool, but there are likely hotspots in other rooms where your window unit doesn't reach.
If you're interested in central air installation in Monroe, GA, give our team a call. We can assess your home and help you choose a unit that best fits your needs. No matter how big or small your home is, we have a solution for you. Keep reading to learn more about the benefits of central air conditioners and some of your other cooling options.
Central Air Conditioning
A central air conditioner is very beneficial because it blows cool air into every room of your home equally. The way central air conditioning works is that you have an indoor unit and an outdoor unit. The indoor unit sits inside of a closet and connects to a system of ductwork that is usually in your attic or basement. Once your air conditioner cools air down, the air blows through the system of vents to reach the rooms of your home.
Larger rooms may have more vents for cool air to blow out of, while smaller rooms have fewer vents. Your thermostat measures the indoor air temperature and signals when your central air conditioner needs to turn on and off for cooling. Central air conditioners operate in cooling cycles, so your unit will stay on for about 15 or 20 minutes to cool your home down and then turn it back off again until the temperature rises too high.
You may be worried about the energy costs of cooling your home with a central air conditioner versus a window unit. However, a central air conditioner will be highly efficient at cooling your entire home. You may see an increase on your energy bills, but there's also a chance that you won't. Your window unit uses electricity, too. It may be running more frequently to cool your home than a central air conditioner would. Plus, if you're worried about energy costs, you can always set the thermostat slightly higher so your home doesn't get quite as cool.
Ductless Mini Split
One concern we hear from a lot of homeowners who live in smaller houses is that they simply don't have room for a central air conditioner. You may not have a closet that you can dedicate to the indoor unit or you may not have enough room in an attic or basement to keep the ductwork. In this case, we recommend a ductless mini split air conditioning system.
It can be a little bit more expensive to install upfront, but you also stand to save about half on your monthly energy bills compared to what you would spend using a central air conditioner. Ductless, mini splits are small individual air conditioners that go in each room of your home. If you wanted to start small and only install a few of the units, you could do that and then add on more when you are ready.
Your Comfort Is OUR Business. Contact the team at Snellville Heating today to schedule an appointment for central air conditioning.