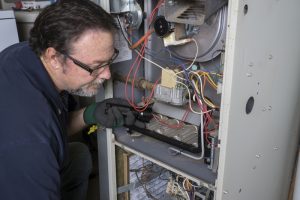 With autumn comes less daylight, cooler temperatures, and the changing of the leaves. In the HVAC industry, however, we see it as the transition from summer to winter—the two seasons where homeowners need our help the most.
Our goals including helping everyone we can, but it's difficult to do that during the busiest times of the season. Unfortunately, a lot of homeowners have to suffer with a broken system right when they need it the very most.
That's why fall is one of the seasons that we urge homeowners to have their maintenance done for their entire HVAC system. We'll explain why down below:
It Gets Your Heater Ready for the Winter
The first reason is for the most immediate concern: the status of your heater.
The first few weeks of fall are a great time to put your heater to the test by seeing if any repair issues make themselves apparent. Strange noises, issues with the heater starting up, and airflow are all things to keep an eye on during this time. If anything seems suspicious, don't hesitate to call for a heater repair service in Snellville, GA.
Even if no problems are present, we still advise getting a quick maintenance check so that you can go through the fall and winter with better peace of mind. After all, maintenance is a preventive service, so it's designed to find problems in the system before they start creating noticeable symptoms.
You're Less Likely to Get Stuck in Extreme Temperature with a Broken System
We often get many of our calls in the summer and winter, when the temperatures are more extreme. HVAC systems are pushed to their limit during these times, and if they haven't been properly maintained throughout the year, they're likely to show symptoms of a problem.
While we still have our fair share of calls during the fall, the difference is that you won't have to suffer through the extreme temperatures while waiting for service if you get it done now. While maintenance isn't a cure-all for any potential problem, it's still estimated to prevent about 85% of potential threats. Maintenance in fall is still the best way to minimize the risk of a repair issue during the more extreme months.
You Can Have Your Air Conditioner Checked Right After Summer
If your air conditioner just made it through the summer without any repair issues, that's good news. However, you can't deny the fact that it has gone through several months of use. There are many components of the AC that are undoubtedly in need of attention, such as the air filter, the coils and fans in the outdoor unit, and much more.
Letting it run again next year without any maintenance is really taking your chances. Having the maintenance done now will save you from forgetting about it before the next summer arrives.