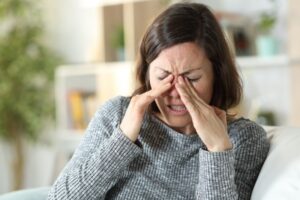 Although most people welcome the coming of spring and the easing of the winter cold, the season does bring with it a few of its own challenges. One of the biggest is allergies. Spring is prime allergy season because the returning warmth causes plant blooms that release large amounts of pollen into the air. This triggers hay fever in many people, a quite unwelcome condition just when the weather is starting to turn pleasant. 
If you have a household with people who suffer from allergies and asthma, you can employ several strategies to make allergy season easier, such as both prescription and over-the-counter medications. We can't help you in that area, but we can help you improve the air quality in your home, which can also make a significant difference in the impact of allergy season. In this post, we'll look at some of the ways our team can help you.
Air Filters
If you think you already have a filter in place—the one on your HVAC cabinet—we have news for you: that filter isn't there to improve your air quality. It only protects the interior of the cabinet from dust and lint. To make a difference in the pollen and other pollutants circulating through your home, you'll need a special air filtration system integrated into the ductwork. 
You must look to professionals to do this job since they can find the right power of filters and then install them into your existing ventilation system. The right air filtration system can sometimes take care of most pollutants in a house.
Air Purifiers
However, if air filters alone don't stop all the troublesome airborne pollutants, you may need an air purifier in Stone Mountain, GA. There are several types of air purification systems that target the smaller contaminants that may slip through filters and lower indoor air quality. One type, the UV air purifier, is specifically designed to eliminate organic pollutants, such as bacteria and mold spores, which are sources of allergy and asthma problems.
Dehumidifiers
You may not have known this, but a dehumidifier is an excellent tool for lowering airborne allergens in a house. Higher humidity levels make it easier for harmful molds and bacteria to get into the air. With a whole-house dehumidifier, you remove a source of pollutants while simultaneously making your home more comfortable during hot weather. A great idea all around!
Ductless HVAC Systems
This is a big change, and you probably won't arrange to have a ductless system installed just to combat allergies and asthma. But improved air quality is one of the important benefits of using ductless cooling and heating rather than a standard ducted system. Ducts collect debris over time, and whenever the HVAC system turns on, it will send out blasts of these pollutants into your home's air. Ductless systems don't have this trouble—since they don't have ducts! If you've considered going ductless before, keep in mind the potential benefits for people in your household who have allergies and asthma.
Call us to find out more about our indoor air quality services. At Snellville Heating, Air and Plumbing, Your Comfort Is OUR Business.