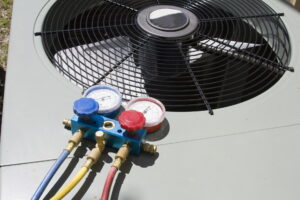 When you think about air conditioning options for your home, central air conditioners are probably at the top of the list. Yet they have a bad reputation for being less efficient than other cooling options. However, technology in the HVAC industry has grown by leaps and bounds, making central ACs highly efficient.
In fact, a central air conditioner may be just what your home needs. If you want to schedule air conditioning installation in Mountain, GA, give our team a call. You can also keep reading to learn more about central air conditioners, including why newer units are so much more efficient.
Less Energy Needed
If you've had a central air conditioner at any point in your life, you probably have a preconceived idea about all central air conditioners, good or bad. And if you think poorly of central air conditioners in general, we challenge you to reconsider those thoughts. Older central air conditioners were nowhere near as energy-efficient as central air conditioners are today. Honestly, when we look at how far the industry has come in a few short decades, it makes us very excited about the future of the HVAC industry. 
All air conditioners have to meet certain energy efficiency ratings as outlined by the government. The scale used to measure HVAC energy efficiency is called SEER. The higher the seer rating, the more efficient the air conditioner. Even just a decade ago the standards were much lower.
Industry professionals were not required to have higher efficiency units because the minimum SEER ratings were lower. But today, AC manufacturers are challenged to meet higher efficiency guidelines, meaning that air conditioners have to be less expensive to operate and ultimately also better for the environment since they use less energy to provide cooling.
Better Refrigerant
Air conditioners have also improved by using a refrigerant that is better for the environment. You've probably heard of a refrigerant called Freon, which is the type of refrigerant that was standard for a long time in central air conditioners.
Freon was found to be a big factor in ozone layer depletion in our atmosphere. Because of this, the type of Freon called R-22 was banned for use. New refrigerant is not without its own risks, but as long as it stays safely in the lines of your unit then it doesn't pose any risks to your health or the environment. 
Quieter
Another great benefit of newer central air conditioners is that they are much quieter. In fact, experts estimate that they are up to 20 times quieter than central air conditioners of the past. Many central air conditioners are so quiet that they produce less sound than a person breathing.
Of course, if having a very quiet air conditioner is important to you, you need to make sure that you talk to a technician about your preferences. That will help us to help you by choosing an air conditioner that best fits your needs.
Your Comfort Is OUR Business. Contact the team at Snellville Heating today to schedule an appointment for AC installation.