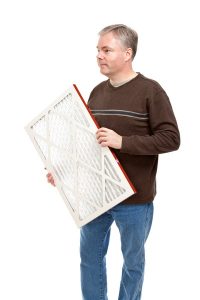 The air filter for your air conditioner, sometimes referred to as the blower filter to distinguish it from the air filtration systems used to improve indoor air quality, is an important component. It does the job of protecting the interior of the air conditioner from dust and dirt infiltration. The blower fan in the AC draws air through the return air ducts, and plenty of dust, lint, and other debris come with that air. The filter stops them so only the air gets through. The filter requires routine changes (every 1 to 3 months) so it won't become too congested.
You can purchase different types of air filters at a range of prices. Is it better to go with the more expensive filters? Or are the lower-cost filters just as effective? We often hear these questions from our customers and we'd like to address them in this post.
The Basic Differences Between Filter Types
AC filters can be broken down into broad types: panel filters, which are the less expensive kind, and pleated filter/media filters, the more expensive option. Panel filters are essentially meshed screens, a basic way to trap larger particles. Pleated filters have a thicker weave, are usually made of fiberglass, and have more surface area. 
The price of panel filters is attractive: you can often buy them in bundles where each panel costs about a dollar. Pleated filters cost more (the range can vary)—and this is where we come up against the question of whether one is better than the other.
The main difference between filter types is how long they'll last. When we tell customers they need to change air filters every one to three months, we also tell them the frequency depends on the filter type. Inexpensive panel filters usually need to be changed each month. They clog up quicker and have less surface area. Pleated filters will need changing every three months and may even last longer. 
Less expensive filters are also not as effective at stopping smaller particles. In the case of many homes, this won't be too much of a problem since these filters are not designed to improve the air quality indoors, just stop dust and lint from getting into the HVAC. However, in some homes, getting a stronger filter may make a difference in protecting the interior of the AC.
Which Type Should I Pick?
The answer to this question will probably depend on your budget. If a panel filter will do the job you need and you don't mind keeping up a stock supply at home, then you can expect to save some money with your filter purchases. Or look for whatever stronger filter you find that fits your budget and go with that. As long as the filter is rated for residential HVAC systems, it will do the job you need from it. (Filters that are too strong will block airflow and damage the HVAC system.) 
If you still feel uncertain about your filter choice, you can always ask our professionals for our recommendation. We're glad to help!
At Snellville Heating, Air and Plumbing, Your Comfort Is OUR Business! Call us today to schedule service for your air conditioning in Suwanee, GA.