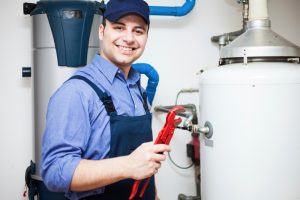 You certainly don't expect to find that your water is all sorts of funky colors when you step into the shower in the morning. But if you turn on a hot water tap in your home and notice that the water is not clear, do not panic. There is a good chance that you have a small problem with your water heater, and if this the case, a simple visit from your local plumber can do the trick.
If your hot water is discolored, your going to need a professional to look at your plumbing in Athens, GA, more specifically though, your plumber is going to want to take a look at your hot water heater. There are a  number of water heater issues that can cause discolored water, and below, we've highlighted a few of these issues. Keep reading to find out more. 
Here's What's Causing Your Discolored Water
Worn Anode Rod
The anode rod in your hot water heater attracts particles that cause rust and corrosion in order to protect the tank. If the anode rod rusts though, your water may turn a reddish-brown color, and eventually, your tank may begin to rust. This is why it is important to have your anode rod replaced every few years.
Corroded Tank
If rust begins to affect your hot water tank, a replacement is going to be your best option. A corroded water tank will cause your water to turn a reddish-brown color. If you notice this, be sure to contact a professional who can determine if a replacement is in your future.
Excess Sediment
Your storage tank water heater stores water at all times, so minerals from the water supply may begin to settle at the bottoms of the tank. Too many of these minerals may make the water appear yellow. If this is the case, a professional plumber can flush out your tank. In fact, it is important to have your water tank flushed out every few years to avoid this problem from forming in the first place.
Rusty Pipes
If you notice that both you hot and cold water taps are producing discolored water, the problem may actually be in your pipes, rather than your water heater. Galvanized steel pipes will eventually rust through and should be replaced with modern or plastic piping.
Be Sure to Hire a Professional
It is important to hire a professional plumber for all your water heater repairs. Only a professional plumber has the training, tools, knowledge, and experience necessary to handle complex plumbing repairs and can determine the best course of action for your plumbing system.
Of course, there are going to be plenty of amateurs willing to service your system, but sometimes an attempt to save money can end up costing you much more in the long run. Therefore, it is important to get it right the first time and hire a professional from the start.
To schedule your plumbing and water heater repairs, contact the experts at Snellville Heating, Air, and Plumbing.