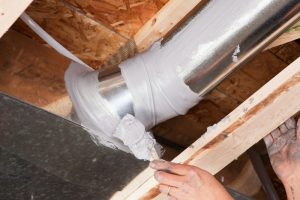 For most people, the only time they've seen the inside of an air duct is in a movie. The hero, locked in a room, must climb through the opening of an air duct that's conveniently affixed to the wall or ceiling.
Sorry to spoil your fun, but in reality, air ducts are really small. They're even smaller in homes, usually made of flexible tubing with a typical diameter of only 12 inches. Worst of all, duct leaks don't make noise or produce any obvious symptoms. It won't be until you receive your energy bill and notice the increase that you'll suspect a leak could be involved.
(Plus, trying to force yourself through a duct could disconnect it, and that would definitely cause a duct leak!)
Why Are Duct Leaks Such a Problem?
Your air ducts are responsible for transferring cold and hot air through your home. In order to do this at the maximum level of efficiency, the ducts need to be sealed as tight as possible. Otherwise, leaky ducts can have profound effects on your home:
Increased energy bills: Your AC won't be able to reach the temperature on the thermostat as easily. The extra effort it has to exert means a bigger number on your monthly energy bill.
Need for extra repairs: A system that has to work harder to meet the demands of the thermostat will always be subjected to extra wear-and-tear. Don't let duct leaks compromise your system.
Hot spots in your home: Leaks will cause the air to escape before it can reach the end of the duct system. Rooms that are the farthest from the AC won't receive equal amounts of cool air as the rest of the home.
Decreased indoor air quality: A disconnected duct in your airspace is going to pull in all the dust and dirt surrounding it. All that bad air is going to be dispersed through your home and will lower the indoor air quality.
Air filters are clogged faster: Extra dirt and dust in the system will only clog your air filter faster. Because your air filter is getting clogged faster than usual, you might not change it often enough, resulting in an AC that has to work harder.
How Do We Fix It?
There are numerous articles and videos online about how to fix leaking ducts on your own, but we wouldn't recommend trying to fix it yourself. It's possible that you'll miss several leaks or use the wrong kind of sealing materials—you won't know how good a job you did until the next bill rolls around.
To get to the root of the problem, you'll want to hire a professional that knows how to use a high-quality sealant like Aeroseal. A professional AC repair in Snellville, GA will be able to thoroughly seal the entire duct system with a set of tools and experience not available to the average homeowner.
Contact Snellville Heating, Air, and Plumbing for duct sealing. Your comfort is OUR comfort!